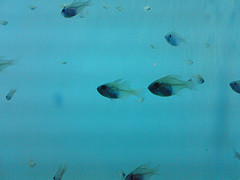 Words with two plural forms are rare in English but it is so difficult to understand when to use the correct form.
Fish
'Fish' is for general use. The kinds of fish are unimportant.
"There are plenty more fish in the sea"
"How many fish did you catch?"
Fishes
'Fishes' is used when talking about some species.
"We breed three fishes here: salmon, trout and carp.
Fruit
Fruit is also general. The kinds are unimportant once again.
"Don't eat too much fruit before dinner."
"You should eat five portions of fruit and vegetables a day."
Fruits
'Fruits' talks about types of fruit.
"These fruits are quite bitter. Cook them with sugar to make gooseberry and crabapple jam."
"Some fruits taste better for dinner than desert, for example tomatoes and papayas."