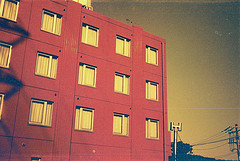 When you book hotel rooms, it is important to know what kind of rooms you need.
A single room has one single bed.
A twin room has two single beds.
A double room has one double bed.
A suite usually has a double bed and a living room facility and often also has private dining facilities. It may also include adjoining rooms for staff.
There are also different meal options.
'All inclusive' means you can eat and drink as much as you like. This is mainly offered in resort hotels as part of a package holiday.
'Full board' includes breakfast, lunch and dinner, usually without alcoholic drinks.
'Half board' includes breakfast and dinner, again usually without alcoholic drinks.
'Bed and breakfast', or B&B, includes breakfast.
'Self catering' or 'room only' means you have to eat out or you may have cooking facilities available in your room.
Example Conversation
Booking Clerk: Hello, Paradise Hotel. How may I help you?
Customer: I'd like to book a room for two weeks from the twentieth of July, please.
Booking Clerk: What size room would you like?
Customer: A twin room, please.
Booking Clerk: Will you dine at the hotel?
Customer: I'd like bed and breakfast, please.
Booking Clerk: Certainly. That's a twin room for fourteen nights, checking in after two o' clock p.m. on the twentieth of July and checking out before eleven o' clock a.m. on the third of August. Your catering requirements are bed and breakfast. That will be a total of nine hundred and ten dollars including taxes. Could I take a credit card number to guarantee the room?