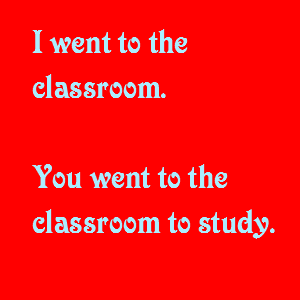 Hello, it has been a while.
I am just adding this because some of my students have had problems with 'ing' actions and 'go' verbs.
"He went to shopping." MISTAKE.
"He went shopping." CORRECT.
Go to a place but don't go to an action.
Use 'go to', 'went to' or 'gone to' with places.
"I went to Paris."

"She went to work." ('Work' here is a place, where she does her job.)
Use 'go to', 'went to' or 'gone to' with a plain verb if someone goes somewhere to do something.
"I go out to the club on Thursday night. I go to dance."

"I go to fish for dinner at the beach."
Use 'go', 'went' or 'gone' without 'to' for activities in special places.
"They have gone swimming." (Most people don't have swimming pools at home.)

"My dad went bowling." (I don't know anyone with a bowling alley at home).
I hope this helps. If you have any questions, leave a comment.